Colin's favorite present this year was a large set of quality wooden train tracks he got from Nana and Grandad, to augment the small amount he previously had. Add to that some hand-me-downs from cousin Andrew and you can build some serious tracks.
This photo was taken after the kids went to bed, so Francesca is posing for me)
Today while Anna was on a playdate, I took Colin to buy him a Thomas engine (he has a Percy but not a proper Thomas). Anthony met us, and also bought another set of 21 track pieces ("I need more straight ones!") and
his own
battery operated engine. For himself. Colin starts playing trains as soon as he comes home, and Anthony soon joins in. Who loves trains more?....
Here are some near-misses from our Christmas card photo session that I could not resist:
Giggling
Can't you hear it?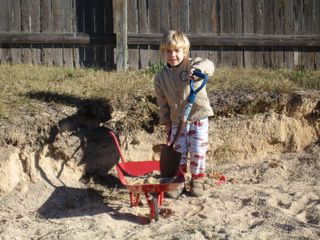 Here is an image of Colin imitating the guys laying concrete. I know, I know, I haven't posted an image of the patio yet, which we still love, but it has muddy puppy prints all over it and doesn't look so photogenic in the wintry, half-torn up landscape. But I love it, and will try to show it to you soon.